SEABISCUIT IS A JUNIOR LIBRARY GUILD PREMIER SELECTION

Books for young readers: "Seabiscuit the aaWonder Horse" by Meghan McCarthy; "Christmas Farm" by Mary Lyn Ray; "How to Heal a Broken Wing" by Bob Graham
By Mary Harris Russell
December 20, 2008
"Seabiscuit the Wonder Horse," you say? Hang on: there's darkness and light here. Meghan McCarthy's illustrations are what make the connection, beginning with the first double-page spread, above these words: "In the 1930s, times were tough. There were long lines to get food." In shades ranging from grayish mauve into gray and black, folks are lined up around an urban corner. When they turn the corner, the line makes a visual arrow, pointing down.
In this dark world, horse racing was light entertainment. (The picture-book audience is too young to ponder how much people yearned for a winning bet.) Enter Seabiscuit. Initially, a loser. His first trainer called him a "big dog."
McCarthy's characters, people or horses, have big, round bug-eyes that are portals of energetic light in this dark world. In his most famous race, scruffy Seabiscuit defeats patrician War Admiral by four lengths. Admittedly, Seabiscuit did not end the Depression. But it's a look back at a tough time when a little horse that didn't start out perfect generated some joy, and McCarthy's way of portraying the story brings that point of light before us

SCHOOL LIBRARY JOURNAL, STARRED

K-Gr 3–McCarthy tells one of the most famous stories in horse-racing history through stylized cartoon illustrations that convey the excitement of the track. Many of the oil paintings are made to look like snapshots in a photograph album with sepia-tinged backgrounds and black corner mounts. The easy-to-read text delivers facts about Seabiscuit's "family"–his owner, trainer, and jockey–and about the big race. An author's note provides interesting anecdotes about each person involved in Seabiscuit's success and demonstrates how the underdog became a champion. This dynamic book is ideal for social-studies units on the Great Depression, and, as an engaging read-aloud, it could generate discussion on perseverance, kindness toward animals, and determination. While perhaps not a must-have, it will be enjoyed by a wide audience.–Nancy Baumann, Indian Paintbrush Elementary, Laramie, WY
KIRKUS REVIEWS

In the late 1930s, when times were tough and people went to the races to escape, they fell in love with a small, funny-looking, underdog horse gentled and trained so well he beat the elegant War Admiral with an unfamiliar jockey in the saddle. The relatively simple text is characteristically and humorously illustrated by the author in cartoon-style, double-page acrylic paintings in muted colors; equally pop-eyed people and horses are emphasized with heavy black outlines. A short section describing Seabiscuit's training is set up as a photo album, with black-and-white pictures against faux-yellowed paper and short descriptions of the major figures: owner Charles Howard, trainer "Silent Tom" Smith and John "Red" Pollard, his usual jockey. McCarthy develops Seabiscuit's character in hoofbeat-like staccato sentences—"Seabiscuit was wild...Seabiscuit was lazy...Seabiscuit was angry and stubborn"—and explicitly draws the connection between the underdog racehorse and the down-on-its-luck public. An ample author's note and sources fill in the story and point to further information. A winning introduction to the sport of kings for the read-aloud set.
BULLETIN OF THE CENTER OF CHILDREN'S BOOKS

The Depression-era equine darling may have hit his nostalgia peak a few years ago, but his story's still compelling in this account by seasoned picture-book author/illustrator McCarthy. The book covers Seabiscuit's transformation from scruffy loser to—well, scruffy winner, his loyal team of owner, trainer, and jockey, and his appeal to the economically pinched crowds; the saga here culminates in Seabiscuit's famous match race with War Admiral, where the little guy solidly whipped his sleek, leggy rival. The account is simplified for the youngest audiences, and they'll get the high points of the story (novice readers may also appreciate the tight focus and bolded emphasis on dramatic phrases) without getting lost in detail. The illustrations demonstrate that McCarthy's trademark bug eyes are an equine as well as a human feature, and Seabiscuit tends to grin toothily as well, so the cartooning is genuinely comic at times; the acrylic paintings are subtly toned, though, with gray touches muting the colors slightly and conveying the distance and dispiritedness of the era. The goofily appealing horse and the underdog-victory story ensure appeal beyond the usual horse fan, and this could even make an interesting approach to examining the Depression itself. An extensive note gives more information about Seabiscuit's human team and a little more about the horse himself, and a list of sources is appended. (Recommended)
Scholastic's INSTRUCTOR: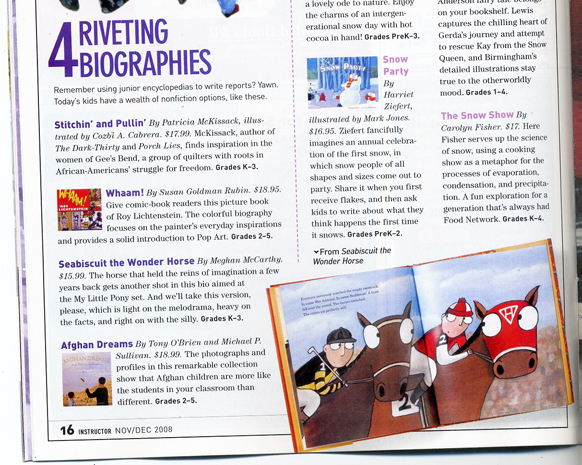 4 Riveting Biographies:
The horse that held the reins of imagination a few years back gets another shot in this bio aimed at the My Little Pony set. And we'll take this version, please, which is light on the melodrama, heavy on the facts, and right on with the silly. Grades K-3.

Ogres and Dragons and Muggles, Oh My! Holiday Children's Books
Review by Laurie Muchnick

"Astronaut Handbook" (Knopf, $16.99) and "Seabiscuit the Wonder Horse" (Simon & Schuster, $15.99) by Meghan McCarthy. McCarthy has made a specialty of offbeat nonfiction. She certainly knows her audience: Her astronaut book features a full- page picture of a space toilet, while Seabiscuit sports a nervous, toothy smile. Perfect for the "Why, why?" set.
Some 2008 Favorite Books for Children
Seabiscuit the Wonder Horse written and illus by Meghan McCarthy S&S Gr k-4
During the depths of the Great Depression, Seabiscuit, was a hero to the downtrodden. He stole the hearts of Americans with his common appearance and non-assuming manner. This picture book account of Seabiscuit's rise to greatness will introduce children not only to the animal but also to the issues facing a nation during the 1930's.
This is a good read aloud for children in elementary school.

Kids' Home Library by Lee Littlewood
Giddy-up for some Western Horse and Cowboy Tales
"Seabiscuit the Wonder Horse" by Meghan McCarthy; Simon & Schuster; 32 pages; $15.99.
The tale of heralded racehorse Seabiscuit is perfect fodder for a picture book.
McCarthy meticulously researched the life story of the originally funny looking horse on a losing streak, and believes some kids will certainly relate to the underdog's struggles.
Happily, the grandson of one of the greatest racehorses of all time made a successful rise to the top, when a risk-taker named Howard scooped him up at a bargain price. And the rest is history.
Fun, cartoon-like illustrations make McCarthy's "Seabiscuit the Wonder Horse" plenty child-friendly. A motivating and exciting tale for kids 4 to 8, the peppy book offers plenty of hope and determination for underdogs, and releases just in time to mark the 70th anniversary of Seabiscuit's historic race with War Admiral. (To be published in October).