NEWS FOR THE SUMMER 2011:
Well, a lot has happened and I forgot to post any of it here. Oops! I have to get better about this. I post things on my home page -- news and stuff and then I take it down and forget that this is a good place to put it for the exteneded time. Anyway, I did a few school visits at the end of the school year and was the keynote speaker for the Children's Literacty Initiative.
Also, I did my first radio interview. Eeek! I was frightened I'd sound awful. This is despite the fact that I sit at home making voices into my microphone constantly. You know, a real radiostation is different and I can't make one of my "newscaster voices" despite the fact that several of my friends and family just assumed that I would. Huh? Are they crazy!
Check out my short interview on NYC's local NPR's station here. I recommend checking out the show. It's very much like a NYC version of This American Life. And if you know me you know that I love This American Life!
In other news, I have a new picture book coming out called The Incredible Life of Balto. I'll be adding as much stuff as I can to that section. Thus far I've put up some old silent films I've found on good ol' YouTube (I really love it now because you can find absolutely EVERYTHING!) and I'm working on an audiobook version of the book with visuals. You will be able to listen to it on audio only or with the images as well. My goal for the image part is to incorporate little animated parts, which you can see here, here, and here, along with actual footage that I've found and some historical photographs. I hope I can pull this off and make it work! You can watch the longer work in progress here. Beware that the sound, images, etc., aren't finished and this is only a fraction of the whole thing.
Pop! The Invention of Bubble Gum is on several state book award lists:
Rhode Island
Maine
Washington
Wasnington State
And POP just got picked for the Society of Illustrators Original Art Award.
It also won the Georgia State Book Award. Thank you Georgia! I'm looking forward to visiting the state next year. I've always wanted to go there.
My editor told me that Pop is also in its 6th printing. Gum for everybody! Errr... sugarless. I'm all about promoting healthy teeth. I'm actually obsessed with keeping my teeth clean (one of my annoying yet healthy habits - don't worry, I have plenty of bad ones to balance this one out if healthy habits annoy you...).
NEWS FOR NOVEMBER/DECEMBER:
Pop! has gotten a few honors. The School Library Journal has picked it as one of the top nonfiction books of 2010:

And Parents Magazine has also chosen it as one of the top books of 2010:


I'm always honored when one of my books gets chosen and all of my hard work gets noticed!
NEWS FOR NOVEMBER:
I'll be doing a booksigning this Saturday (November 13th) at the Brooklyn Museum from 12-4 pm
NEWS FOR ALMOST SEPTEMBER:
Yes, yes POP! was in the NYT and I put the blurb in the books section.
Dan Santat is hosting a auction for 826LA - for schools and I'm donating a piece of art.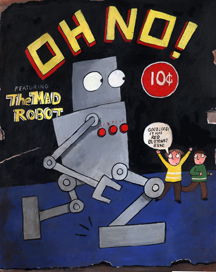 (click to see it larger)
Go here for more details and to bid!
NEWS FOR AUGUST:
Pop! The Invention of Bubble Gum has gotten into the Society of Illustrators Original Art Show. I'm always very happy to get in because it's an exciting event to go to––wine, cheese, crowds of publishing folk and the like. And of course it's a great honor. I looked it up and on the website it says 122 books got in out of 650 entries. Wow. I have the list. Some of my pals such as Peter Brown, Sean Qualls, Brian Floca, Dan Santat have gotten in as well. Where are my lady friends? Come on ladies, get on board here! If I'm missing any of you please forgive me. Anyway, I look forward to seeing you all come October. And congrats to Dan for getting the sliver medal!
Also, in honor of getting in the NYT I finally finished the "bubble gum art" section of the website for my book Pop. I really wanted to put some of the cool art I discovered in my research for the author's note but it didn't/couldn't happen... so on it went to the good ol' website. So please check it out. It sucked a lot of time out of me.
Auctions: I'm doing several auctions if I can get my book done and out of the way. One is a thing Dan Santat put together (I'm painting a robot) and the other is for animals in the gulf. Yes, I'm being vague but I've been sitting here too long and my back hurts. I'll give much more details in a bit complete with art!
NEWS FOR MARCH:
I'm designing T-shirts. Yay! This is a fun project and I hope it all goes well. These are some of my designs that may or may not become t-shirts:
This March 6 authors & illustrators are getting togehter for various events.
Selina Alko
Miriam Cohen
Pat Cummings
Melanie Hope Greenberg
Aileen Leitjan
Meghan McCarthy
I'm listing all the events that the ladies are doing and the ones in bold are the ones I'll be at. Please stop by!
Mar. 6 Sat. 10:30am GREENLIGHT BOOKS presents SELINA ALKO and AILEEN LEIJTEN
LOCATION: 686 Fulton Street, Brooklyn, NY 11217 INFO: 718.246.0200
Mar. 13 Sat. 10:30am GREENLIGHT BOOKS presents MELANIE HOPE GREENBERG and MIRIAM COHEN
LOCATION: 686 Fulton Street, Brooklyn, NY 11217 INFO: 718.246.0200
Mar. 14 Sun. 11am - Noon BOOKCOURT presents a panel discussion featuring illustrator/authors SELINA ALKO, MIRIAM COHEN, PAT CUMMINGS, MELANIE HOPE GREENBERG, AILEEN LEIJTEN, and MEGHAN MCCARTHY.
LOCATION: 163 Court Street Brooklyn, NY 11201 INFO: 718.875.3677
Mar. 20 Sat. Time: TBA GREENLIGHT BOOKS presents MEGHAN MCCARTHY
686 Fulton Street, Brooklyn, NY 11217 INFO: 718.246.0200
Mar. 21 Sun. 4-6pm P.S. BOOKSHOP Group Story Time with illustrator/authors SELINA ALKO, MIRIAM COHEN, PAT CUMMINGS, MELANIE HOPE GREENBERG, AILEEN LEIJTEN, and MEGHAN MCCARTHY.
LOCATION: 147A Front Street, Brooklyn, NY 11201 INFO: 718.222.3340
Mar. 27 Sat. 10:30am GREENLIGHT BOOKS presents PAT CUMMINGS
LOCATION: 686 Fulton Street, Brooklyn, NY 11217 INFO: 718.246.0200
--------------------------------------------------------------------------------
In other news...two school visits that I had scheduled in New Jersey were cancelled due to heavy snow! Let's hope that's the end of it!
NEWS FOR SEPTEMBER/OCTOBER:
I haven't updated this in a while but here we go... Please come and say high at the Powerhouse Areana this Sunday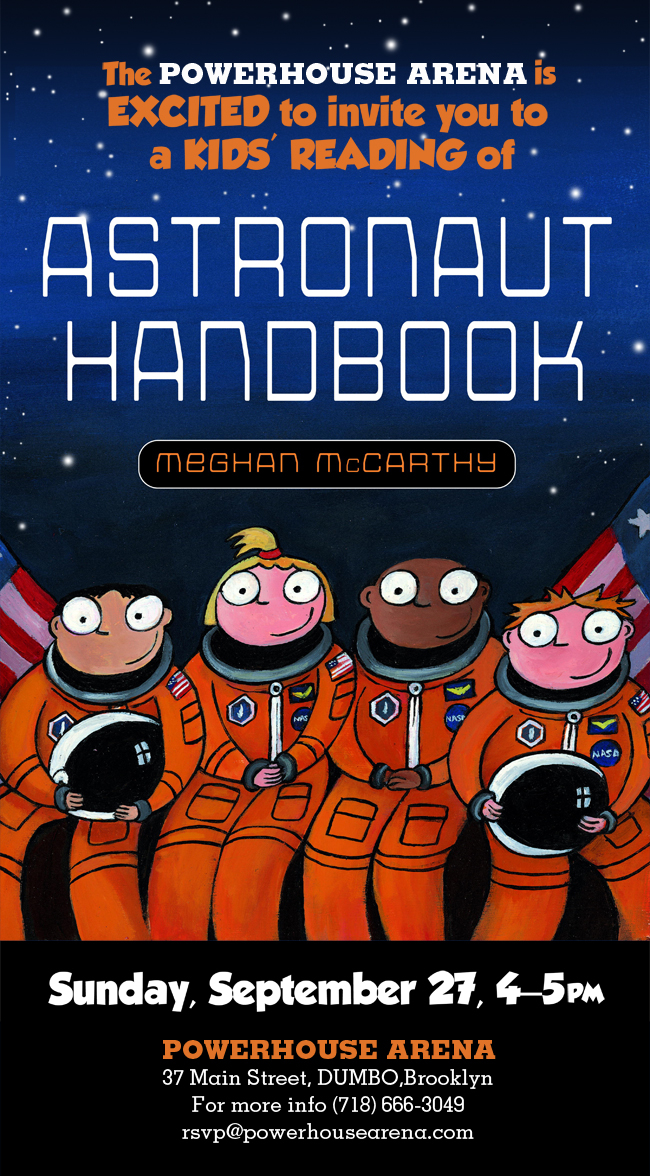 Also on Columbus Day Weekend I will be in Rhode Island at the Art Festial. More info to come!
NEWS FOR AUGUST
Check out ALIENS ARE COMING this month in paperback. 7 bucks and it's yours!

Also, I just found out that Seabiscuit is a CCBC choice for 2009.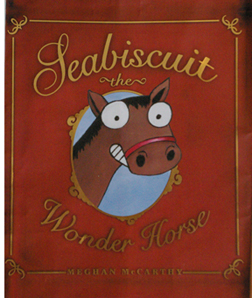 In addition, I've finished POP! I'll be posting some images from the book soon so stay tuned.
NEWS FOR JANUARY:
Sadly, if you see below, you'll see that I was supposed to be at the panel talk by 2. When did I arrive? WAY after 2. I woke up at 1 (when I was supposed to be leaving) because I set my alarm wrong. I felt like such a (insert your own word here). Anyway, my designer at Random House was there, which was cool, and she told me ALIENS ARE COMING! is going to be in paperback.

So I went to Amazon and there it was. Amazon says it's coming out in August for the lovely price of 6.99... so stay tuned!
---------------
Okay, this is super last minute but today, Saturday January 10th I will be speaking at the NYPL. This is the description I got from Fuse #8's blog:
Graphic Elements in Biography and Non-Fiction
Join C.M. Butzer (Gettysburg), Meghan McCarthy (Seabiscuit, the Wonder Horse), Sean Qualls (Before John Was a Jazz Giant), and Dan Yaccarino (The Fantastic Undersea Life of Jacques Cousteau) as they discuss their work melding picture book and graphic novel elements with biographical and informational subjects.
The Children's Literary Café is a monthly gathering of adults who are fans of children's literature. Professionals, librarians, authors, illustrators, publishers, booksellers, teachers, and anyone else interested in the field are welcome to attend our meetings. The Literary Café provides free Advanced Readers galleys, a rotating series of talks with professionals in the field, and great conversation.
New York Public Library
Children's Center at 42nd Street
Room 84
475 Fifth Avenue
New York , NY 10018
NEWS FOR NOVEMBER:
I've been a bit distracted as of late, so this thing hasn't gotten a propper update. I've been doing a lot of signings for Seabiscuit and the Astronaut Handbook, yet I didn't manage to post where and when. Oops!
I will say that I had a great time at the Society of Illustrators art opening for Seabiscuit. Below is a picture of it on the wall: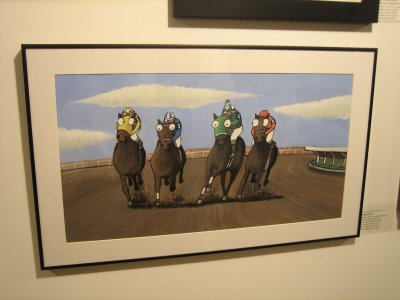 My parents came up to visit a few weeks later for my birthday and went to the gallery to check it out for themsleves. I really appreciate all their effort! Seabiscuit has also gotten a recomendation from Scholastic's INSTRUCTOR magazine: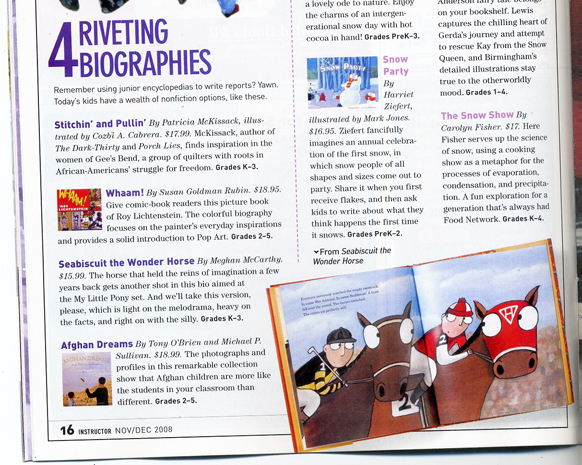 Lastly, I promise to post my signings ahead of time so that you can stop by and say hi. I did one at the Brooklyn Museum and it was pretty full of people, so that woud have been a good one to post. Alas. You will know next time!
AUGUST

Yippee, SEABISCUIT THE WONDER HORSE has gotten into the Society of Illustrators Original Art Show.
I thought this was really cool. My book ASTRONAUT HANDBOOK was donated to some schools in the CA and DC area. I don't know how they decided to pick my book, but it's great that they did! I don't get to see kids interacting much with my books because I"m always too busy making new ones, so this was really cool for me to see. Click on the image below for a bigger version.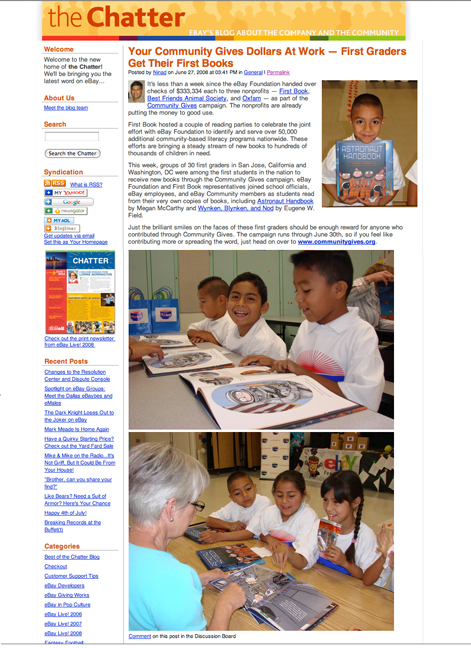 Also, I think I mentioned this before, but in case you missed it, one of my cityscape paintings is in Disney's movie UNDERDOG. Look closely––it's on the wall! You can see the full painting here: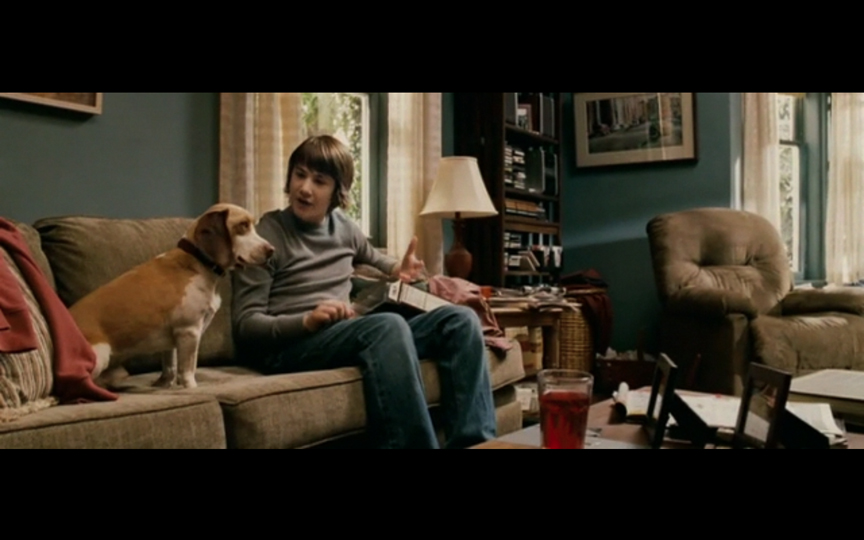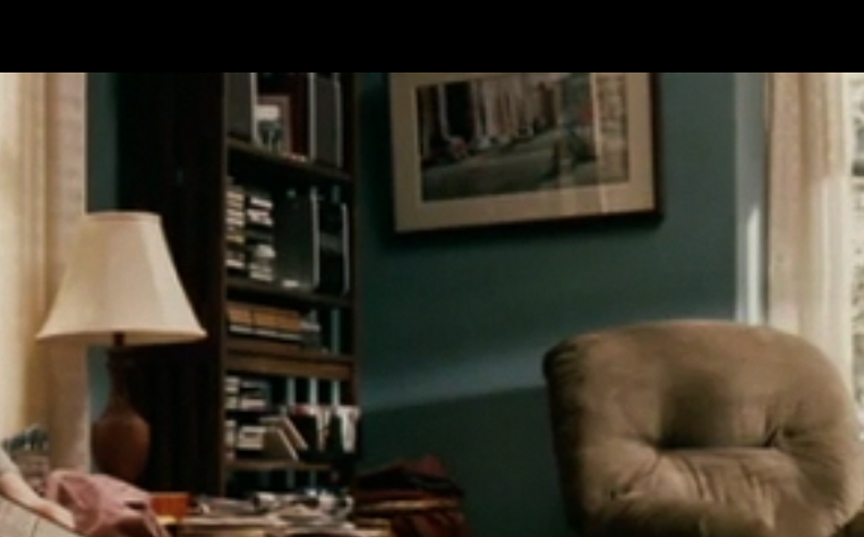 Here's a mini-version of the painting called DOWNTOWN.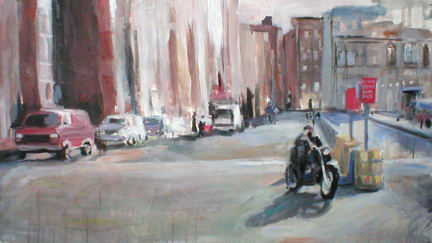 In Seabiscuit news, I just got the first hardcover copy! The book isn't coming out until October, but stay tuned. Below are a few photos: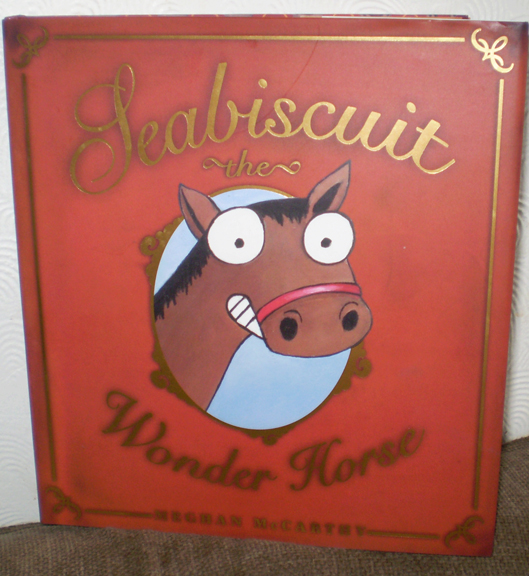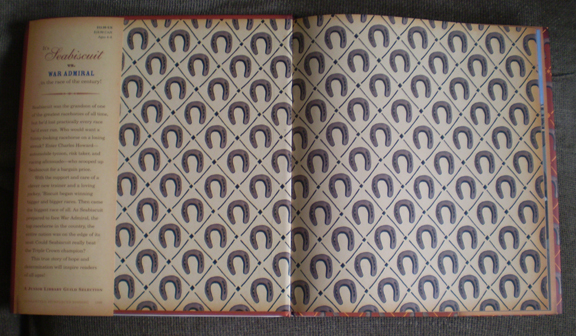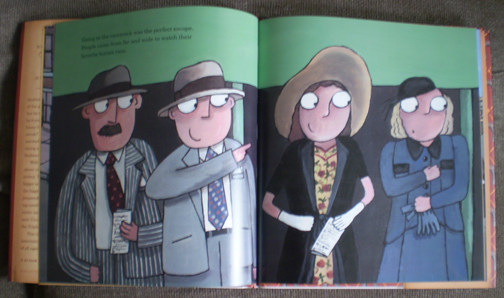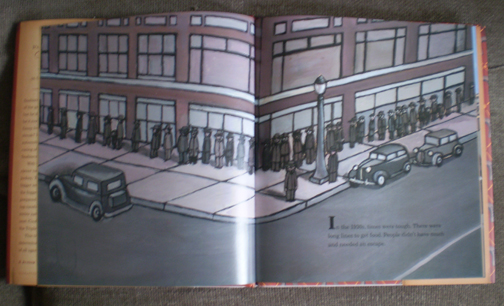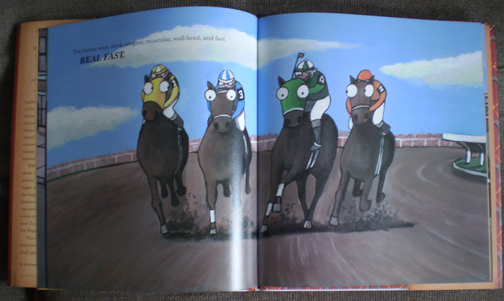 Seabiscuit is finished and the cover is getting gold foil! I finally got a copy. Seabiscuit is also going to be a Junior Library Guild Premiere selection book.
Astronaut Handbook is coming out and Random House has made some cool promotional posters. The book is also a Children's Book of the Month Club pick.
Aliens Are Coming! has won three great awards!––The Arizona Grand Canyon Reader's Award, Pennsylvania Young Reader's Award and Maine's Chickadee Award.
And in June/July news, I just sold a new nonfiction picture book to S&S! Details to come....
CLICK HERE FOR MORE NEWS AND EVENTS