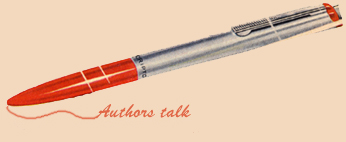 ..........................................................................................................................................................................................
Kathryn Lay
"My humorous middle-grade novel, KING OF FIFTH GRADE, will be published by Holiday House in 2004. My short story, "The Healing Truth" is included in Bruce Coville's anthology, A GLORY OF UNICORNS, published by Scholastic Press. I have had 800 articles and stories published in Boys' Life, Cricket, Pockets, Spellbound, HIghlights for Children, Guideposts, Woman's Day, CHICKEN SOUP, Kiwanis, and many more. I've been writing since 2nd grade, but to publish for 14 years. I am currently a SCBWI Regional Advisor, teach 2 writing courses online, homeschool, and run a volunteer ESL school with my husband. I can be reached at rlay15@aol.com."
...........................................................................................................................................................................................
What drove/inspired you to get started?
When I was in 2nd grade, I wrote two short stories that received gold stars and were displayed in the school hall. I loved to read and decided I enjoyed writing too. Since then, I've never really 'not' written, it's always been a part of me. When I sold my first piece in 1989, I was totally hooked.
Do you have any specialized training?
No. I've attended many writers conferences, critique groups, workshops, and such, but my college was in secretarial business.
Have there been any obstacles along the way?
I've been very fortunate that I sold pretty soon after I began marketing my work, have had an extremely supportive family, and am obsessed with not giving up on this. My main obstacle has been selling my first children's book, which just happened this February.
Before you got the all important contract how did your friends and family react to your goals? Were they supportive?
Yes. My husband has always been supportive of my work. Whether my articles or stories brought in $20 or $2000, he is excited for me. He's supported me in continuing to write and market my children's books, was thrilled when I got an agent, and celebrated every step of the way with my first book sale. The ones who've been excited when I sold to magazines have been as much or more thrilled with the book sale and possibility of more.
Now that you have a book/books in print, do you get different reactions from friends and family?
The ones who've been so-so in their attitude, have been a little more impressed, but not as much.
How did you land that very first book deal?
I got a wonderful agent who believes in my work and encouraged me in a new direction with my rewriting. She's been an editor and an agent. Once KING was ready to go, she took my suggestion on who to send it to and we sold it within a couple of months.
Did you have any misconceptions in the beginning about the whole book process?
Not really. So many of my writer friends have paved the way. I've seen the ups and downs of contracts, rewrites, publication, review, and marketing/promotion, so I'm fairly prepared.
How would you describe your work? What's the most important thing you'd like others to get out of it?
My writing is fairly down to earth. I'm not a literary writer, more in-between mass market and hardback in some ways. I love humor and fantasy and hope it comes through in my writing. The main thing I want my readers to get out of all my writing is enjoyment and information, depending on the project.
Do you have an agent? If yes, please explain how you acquired your agent and how do you think having one has helped you? If you don't have an agent, would you consider getting one?
I was getting great responses from editors, close calls, lots of positive and personal rejections, but no nitty-gritty "here's the problem" type help. I was referred to my agent by one of her clients. We meshed quite well, have similar reading tastes, and as I mentioned above, she's helped me see what works and doesn't work with my writing. Ê She builds my confidence, and knows who is looking for what type of book in the publishing world.
Describe your relationship with your editor (art director if applicable).
So far, very nice. We've met once, spoken on the phone twice. She's been very positive about my writing to my agent and to others we mutually know, so I'm excited to work with her.
How do you most often communicate with your publisher--e-mail, phone, or snail mail?
Almost always by email with my agent, by phone so far with my editor.
What books do you have in the works now?
Several fantasy mid-grade novels, a couple of picture books, a couple of chapter books, three humorous novels, a Christian YA, and a more serious mid-grade, and too many ideas to count.
Is there anything you'd do differently with your new projects?
Dig deep into character and find their voice as my agent helped me do with KING.
What's the best thing about publishing a book? What's the worst?
Best was telling everyone I knew and hearing those words from my agent that it sold. Worst is the waiting...for rewrites, publication, so on.
Any last words of encouragement for beginners?
Don't give up on your dreams if they are important. Don't be afraid to work on short projects while you are working on the longer ones. The money and thrill of acceptances will keep you going. Listen to established writers. Attend conferences and meet writers, editors, agents, etc.
Kathryn Lay http://hometown.aol.com/rlay15/index.html NC/NE Texas SCBWI Regional Advisor Author of KING OF FIFTH GRADE, Holiday House, Fall 2004