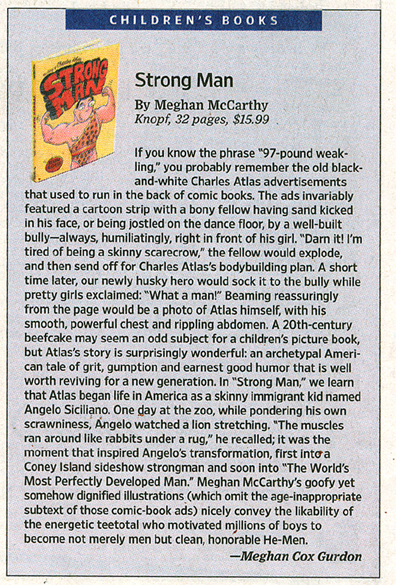 Booklist
* starred review *
In this winning picture-book biography, author and illustrator McCarthy (Aliens Are Coming, 2006) tells the story of Charles Atlas, the original 98-pound weakling who transformed himself into "The World's Most Perfectly Developed Man" and moved generations to embrace fitness. The smoothly paced, concise text follows Atlas from his boyhood arrival on Ellis Island to the abuse he suffered as a skinny kid in his Brooklyn neighborhood. After finding inspiration in classical statues of muscled gods and in the animal world (a lion's stretch is a eureka moment), Atlas developed his Dynamic Tension fitness program and became a world-famous strong man. The acrylic paintings nicely reinforce the meaning in the words on each page, and the artwork's cartoonish style-bug-eyed, thickly outlined characters and rich, flat colors-echoes Atlas' larger-than-life, superhero persona. Particularly touching are the re-creations, in words and pictures, of letters sent from young fans whose lives were changed by Atlas' program. Atlas' tall-tale biography is a difficult story to tell accurately, and McCarthy's lengthy author's note acknowledges the challenges she encountered as she separated fact from fiction. A bibliography and an illustrated spread featuring examples from Atlas' exercise regimen conclude this cheerful introduction to a cultural legend whose messages about self-respect and healthy choices are just as timely today as they were 50 years ago.
-Gillian Engberg
Kirkus Reviews
* starred review *
From the inspired take on the 1938 War of the Worlds broadcast (Aliens Are coming! 2006), McCarthy turns her attention to another icon of 20th-century pop culture, Charles Atlas. Bug-eyed cartoony acrylics depict the arrival on American shores of young Angelo Siciliano and the now-legendary sand-kicking episode on Coney Island 's beach: "SPLAT!" Inspired by a statue of Hercules in a museum and a powerful lion at the zoo, he determined to remake himself. Of course, he did, becoming the inspiration for thousands of comics-reading 98-pound weaklings that followed. Such a story could easily be deadly in its virtue, but both the humor of the illustrations and the accretion of cool Atlas factsóhe served as the model for over 75 statues around the country; he still reigns as "The World's Most Perfectly Developed Man"keep things light without undercutting the author's genuine admiration for the man. Comic-strip panels appropriately share the space with traditional spreads and mock black-and-white photographs, delivering a sunny account of Atlas's life and career. An extensive author's note expands on both man and influence; four exercises are also provided. (bibliography) (Picture book/biography. 5-8)
School Library Journal
* starred review *
An entertaining introduction to a fitness guru and entrepreneur. Beginning with young Angelo Siciliano's arrival at Ellis Island, the book describes the scrawny Italian immigrant boyhood in a rough Brooklyn neighborhood-and when he was older-the storied seaside encounter with a sand-kicking bully (witnessed by his date). Humiliated and determined †ø change his life, the young man decided to change his body. While at the zoo, he watched a lion stretch and noticed its muscles rippling beneath its skin. "Eureka!" He devised and followed an exercise routine that pitted one muscle against another, gradually becoming "Strong as an ox! The rest of the book covers his new name (for his resemblance to a statue of Atlas), his success as a sideshow strongman and bodybuilder, his famed fitness course, and his emphasis on healthy living. An author's note makes it clear that Atlas's story has been much mythologized and that little is known about his private life. McCarthy cleverly makes the most of this, smoothly weaving facts, quotes, and dialogue balloons into a comic-book-like narrative that perfectly suits its subject. Similarly, the acrylic illustrations feature cartoon characters and appropriately over-the-top humor. One scene shows skinny youth locked in a staring contest with a muscle-bound statue of Hercules, while another shows the pumped-up Atlas, google eyes bulging, straining to pull a train. This colorful book captures both the essence and mystique of an American icon.
Hornbook
America's first bodybuilding champion and fitness guru Charles Atlas entered the pop-culture lexicon with his own mythology, from his initial humiliation as a scrawny kid who got sand kicked in his face at the beach, to his fitness insight born of watching a lion stretch at the zoo, to later feats of strength such as tearing phone books in two and pulling a train with his bare hands. This new picture book gives readers context for the homage still paid to the folk hero, including Atlasís holistic approach to fitness that inspired so many young people of his era: "'Take charge of your life!'...'Eat right!'...'Make your bedroom attractive and clean.' 'In the morning, donít dillydally! Get up!'" McCarthy's narration is simple and light-handed, illustrated with cartoony acrylic paintings strengthened by definite black outlines. As in Aliens Are Coming! (rev. 7/06), McCarthy intersperses black-and-white vignettes among the color spreads to mimic archival news photos and television images, adding visual cues of the historical period and supplying an intermittent documentary feel -- though the guileless expressions on her oval-eyed figures keep the action immediate and accessible. An authorís note admits that Atlasís surviving biographical details are more idealized than factual, but a page of suggested exercises for motivated young bodybuilders gives readers a concrete connection to Atlasís oversized legacy.
Anita L. Burkam
The Gazette (Canada)
Charles Atlas still has much to teach
BERNIE GOEDHART, The Gazette Published Saturday, August 18
Given the current obsession with fitness - and concern about lack thereof in children - this is a perfect time to recall the efforts of someone who holds an almost iconic place in the history of physical exercise.
Strong Man: The Story of Charles Atlas, by Meghan McCarthy (Knopf, 34 pages, $21), focuses less on the man's eventual role as a body builder and more on his beginnings as a scrawny kid who learned to build up his strength and live a clean, healthy and successful life.
Beginning with his family's arrival at Ellis Island more than 100 years ago, author/ illustrator Meghan McCarthy tells us the story of Angelo Siciliano, a small boy from Italy who spends his boyhood in Brooklyn, N.Y. It's not an easy life; because of his diminutive size, he is often victimized by bullies. Even when he gets older, his slight frame makes him a target for bigger, beefier men - including the one who kicked sand in his face at the beach, in full view of Angelo's date!
Humiliated, Angelo decided enough was enough and began looking for a way to change his life. At the museum one day, he spotted a statue of Hercules and set out to build himself some muscles like those. His teacher suggested he try lifting weights, so the enterprising Angelo made himself a set of dumbbells and started working out. But he wasn't getting the results he wanted.
Angelo again put on his thinking cap. During a visit to the zoo, he watched a lion stretching and deduced that the animal was building muscles as it did so. Voila! Angelo devised a fitness routine in which, like the lion, he pitted one muscle against another. It worked! Angelo's skinny body morphed into a strongman's physique, and people took notice.
Not one to waste an opportunity, Angelo joined a Coney Island sideshow and displayed his newfound talents. He changed his name to Charles Atlas, won competitions, was crowned "the World's Most Perfectly Developed Man" and performed numerous stunts, including pulling "a 145,000-pound train with his bare hands."
He advertised his fitness plan and, along the way, became a role model for every skinny runt of a boy who was ever targeted by a bully. People around the world - both male and female - caught his passion for fitness. Charles Atlas became a household name.
To this day, McCarthy tells us, his measurements "are on file as the perfect specimen of the human body." But his importance, especially today, rests more with the habits he promoted than with physical perfection. "Take charge of your life," Atlas told his students. "Eat right! Make your bedroom attractive and clean. In the morning, don't dillydally! Get up!" (Okay, those are the sayings McCarthy highlights to illustrate Atlas's philosophy. She's clearly paraphrasing for the benefit of her audience, but you see where we're headed here.)
The book includes four exercises even preschoolers can do, and provides a note to parents promoting movement as a tool to healthy child development. This volume's strength is based on McCarthy's paintings (acrylic on gessoed paper), which are bold and distinctive. They have an evocative, flat, posterish look to them and much of her characters' colourful appeal rests with their expressive, pop-eyed faces. Best for ages 4 to 8 (and parents).
LA Daily News
Children's Library
A biographical look at history
David Ross
"Strong Man: The Story of Charles Atlas" by Meghan McCarthy (Knopf, $15.99, third-grade level). ISBN: 9780375829406. This rags-to-riches story about an Italian immigrant who made good gives kids a timely message about the importance of health. The scrawny kid who later became Charles Atlas, the "world's most perfectly developed man," is a fitting role model. He was the target of bullies until he decided to change his life by working out and eating right. His efforts paid off with global success as a businessman and much-emulated icon. The exercise regimen he created (condensed in the appendix of this book) still is in wide use today.
Chicago Tribune
FOR YOUNG READERS FOR YOUNG READERS
By Mary Harris Russell, professor emerita of English at Indiana University Northwest, who reviews children's books each week for the Tribune July 28, 2007 The Story of Charles Atlas ( ( B y M e g h a n M c C a r t h y ( ( K n o p f , $ 1 5 . 9 9 ( ( A g e s 5 - 8 y e a r s ( ( S c r a w n y A n g e l o S i c i l i a n o g r e w u p t o b e c o m e m u s c l e m a n C h a r l e s A t l a s . H e h a d n o p e r s o n a l t r a i n e r . H e m a d e u p h i s o w n w e i g h t s , d e v i s e d h i s o w n e x e r c i s e s , l a i d o n b e d s o f n a i l s a n d s o l d f i t n e s s c o u r s e s ( a n d the idea of fitness) to a nation. Meghan McCarthy makes clear how much here is legend, but we can recognize Atlas' persistence and energy.