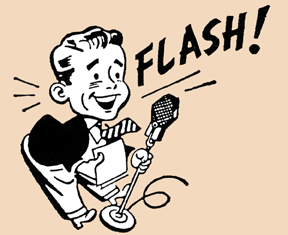 IN THE MONTH OF MAY & JUNE (catching up!)
At Bologna 2005, YA novels are stars. Picture books, as usual, are in decline around the globe. Too bad for authors like me... great for the next steamy teen novelist!Fantasy is also still the rage, especially in Hollywood (stay tuned for The Lion, the Witch and the Wardrobe). Some attendees weren't that excited with the selection this year. As one publisher eloquently put it––"Why the hell should we buy boring books in Bologna when we can do enough of them on our own?"
A new reality TV show all about authors? "At Last, You Could Become America's Next Best Selling Author and Reality Show TV Celebrity!" boasts the website for Book Millionaire, "scheduled to air this fall." Certainly, the idea of an author reality show seems like a great idea. Who wouldn't want to watch endless hours of individuals furiously typing away and swigging coffee. What drama it would be to see those metal wastebaskets pile up with bunched, discarded paper! And what about the excitement and thrill of watching an author debate with their editor whether a sentence should begin with "But..."?
Think again! One look that the "host" for the would-be reality show, and you'll know it's a hoax. This competition's claims to make wanna-be authors famous is full of hot air. Reader and watcher beware! For a funny look at one author's opinions of the show, go to "A Writer's Life: Scam of the Month."
Penguin Group is now changing its payment policies… for the worse! This is not good for authors who work this publisher (myself included!). I have always gotten paid in thirds––one part upon signing the contract, one part after turning in the sketches/MS, and the last part when I turn in the artwork. Now Penguin won't pay the last third until the book is published! This is a policy, or so I am told, that takes place oversees, and now, Penguin is practicing it in the U.S. One can only hope that other publishers do not follow suit!
Lane Smith gets the big bucks. Lane Smith sold his latest solo endeavor to Hyperion (part of the Disney company) for the "paltry" sum in the neighborhood of 600,000 dollars. This is no small potatoes, especially for a picture book. Viking, Smith's regular publisher, lost the bid… or perhaps did not bid at all. Hyperion has agreed to a 200,000 dollar marketing campaign for the Smith's book called John, Paul, George & Ben, about our founding fathers.
Evan St. Lifer, editor-in-chief of School Library Journal, will be taking a new position at Scholastic Library Publishing June 2nd. He will be Vice President and general manager.
Sterling, aka Barnes & Noble is about to release a new crop of children's books this spring. Look for endcaps and other displays prominently displaying the Sterling titles. In B&N, Sterling gets top billing!
IN THE MONTH OF APRIL (plus catching up on some March news!)
In non kid's book related news, Hunter S. Thompson's ashes will be blasted from a cannon. "It's expensive, but worth every penny," Anita Thompson said. "I'd like to have several explosions. He loved explosions." The anticipated explosion is scheduled to happen sometime this August.
Barbara Marcus will be leaving Scholastic, after 22 years at the publisher. She will be leaving this July, after the publication of the sixth Harry Potter book. Lisa Holton, currently Senior VP at Disney's children's books, will be taking her place. "I've done what I came to Scholastic to do," Marcus said, "It's time for someone else to take over." Richard Robinson, Chairman, President, and CEO of Scholastic commented, saying "Barbara Marcus indicated to me some time ago that she wished to leave the company after achieving improved results in the trade and book fair businesses... At my request, Barbara has agreed to continue with Scholastic through the release of Harry Potter and the Half-Blood Prince, and I am grateful to her for guiding the publication of the incredible series which we believe will once again be a record-setting publishing event this July."
Amazon turns publisher. Amazon is now in the market to buy and sell short, original written works. It has sought after some well-known authors. It is said that 250 are prominent authors are already on board. The works will be exclusive to Amazon and will cost 49 cents per download. Some authors may give alternative endings and updates to their popular books. One agent remarked "It's a great promotional vehicle, and it doesn't cost us anything." Some publishers seem weary, however. One prominent editor commented, saying "You never want to do something that's so big that it offends everyone else."
Harry is coming July 16th! Harry Potter and the Half-Blood Prince will have a print run of over 10 million. 100 Day Countdown to Harry is the million dollar campaign Scholastic will be launching. There will be ads, trivia, and more. Look for a Harry Potter crossword puzzle in the New York Times.
IN THE MONTH OF MARCH
> Well, this isn't really publishing news, but I'll admit that I'm so busy that I don't have much time to update this. However, I will try!
>Mary Grand Pre talks about Harry. She says, when speaking of Harry––"I feel like I'm his mom. I comb his hair or I mess it up, I make sure he looks good before he goes out the door." The article also gives a nice preview of the new Harry Potter cover. Check it out here.
> A whole new way of reading Peter Rabbit has arrived. This one is pretty odd. Peter Rabbit has been translated into... drum roll please... hyloagrphs! Read Peter Rabbit gets hieroglyph tale here. The translators said that the "time seemed appropriate" for the translation. Indeed! I can't want to get my copy and read it to children everywhere… or stare at it blankly. I'd at least like the enigmatic book for my bookshelves.
> RH gets a new imprint. As mentioned earlier, Anne Schwartz left S&S to form a new imprint. New information indicates that Lee Wade, also from Simon & Schuster, will join her. They will form a new imprint called Schwartz & Wade Books. They will publish approximately 20 books a year and their first will come out next spring.
IN THE MONTH OF FEBRUARY
> Bad news for Penguin Group. Layoffs are occurring as a result of "restructuring." Sales have been the hardest hit. Unfortunately, it seems that the children's divisions have also been hit hard, laying off several senior editors. Also, editor-in-chief and associate publisher of Penguin Books––Jane von Mehren––will be moving to Random House to be publisher of the trade paperbacks. An editorial assistant from Viking is also leaving, although the circumstances aren't known. I'm sure more news will soon follow....
> The Publisher's Weekly spring children's release issue reports that children's publishing is alive and well. The good news is that sales for hardcover children's novels, particularly fantasy titles, are up. The bad news is that sales for picture books are down. Auctions for young adult and fantasy novels have become commonplace, raising the stakes for purchasing such titles. Because of the rising costs to buy such titles, some publishers admit that they've become "choosier," to reduce the risk of losing money. Picture books backed by big names are doing well, admitted Karen Katz, publisher at Harper Collins, but the midlist isn't doing so well. PW quoted Katz as saying "If we have a book at 100,000 copies we can push it higher, but what about books at 10,000 or 15,000 copies? That's a tough market." Lori Benton from Harcourt said "But picture book publishing is not a racecar, you can't turn it on a dime. It's an ocean liner, it's a big slow turn. How do you build a new talent who comes on the scene at this point in time? That makes me worried."
To the extensive article about children's publishing, pick up an issue of PW at your local newsstand or go to www.publishersweekly.com to subscribe.
> Is computer art all the rage? Read what Lane Smith has to say about going digital here.
> Ever wondered if a vanity press might be the way to go? Read about a very amusing experiment that proves that Publish America, despite its claims to be a legitimate publisher, is not what it's cracked up to be.The piece is called The Publish America Sting - Would they publish the worst book ever written? You betcha! And it's actually SO bad, it's really funny.
IN THE MONTH OF JANUARY
> Simon & Schuster focuses on religion, with its new line––Little Simon Inspirations. S&S Children's will focus on what they novelty books… which will be made obvious with the release of a touch-and-feel book called All God's Creatures. Christian author Max Lucado is stepping up to the plate to help boost the new imprint.
> Publishers Weekly announced "the cuffies"––booksellers answered "off the cuff" to a variety of questions and subjects. Get the issue of PW to read it in its entirety.
Here is one category. Bookseller comments are in parentheses:
Most Overdone Subjects "Daddy and me" books; bodily functions; teen chick lit, "mean girls" books ("I'm so tired of this trend"); and celebrity picture books ("Pleeeze, publishers, cut it out. We are so sick of poorly written, poorly edited, ill-conceived vanity books"; "any celebrity book excluding Jamie Lee Curtis and John Lithgow"; "boo to Jay Leno—the book isn't that funny, Billy Crystal—he tried, and Madonna —they don't sell")
Booksellers also named their Favorite Picture Book of the Year, which is The Friend by Sarah Stewart, illus. by David Small. This is an interesting pick, for sure. The story follows the life of a little girl, who is raised by her nanny/housekeeper. Her parents aren't in the picture at all. The housekeeper gets older and pays less attention to the little girl… the illustrations depict the woman as very tired and missing her own family. The little girl wanders off alone and almost drowns. The nanny is clearly upset by this incident. The books ends with a depiction of the little girl grown up, recalling her childhood memories. The book says a lot about parenting and relationships and the illustrations definitely add a different chord to the tune. Whether you conclude that the ending and story itself is dubious or perfectly touching, I recommend finding this book to draw your own conclusion. I will say this––it's definitely different, perhaps even daring. For that reason, it's worth studying. The Friend was also booksellers first pick for the Caldecott, according to PW.
> The ALA awards for 2004 are in.
CALDECOTT WINNER:
Kitten's First Full Moon by Keven Henkes; published by Greenwillow Books
ALA says this about the book:
"Henkes employs boldly outlined organic shapes and shades of black, white and gray with rose undertones on creamy paper to tell a simple story...The gouache and colored pencil illustrations project a varied page design that rhythmically paces the spare text"
Caldecott Honor Books were:
The Red Book by Barbara Lehman; published by Houghton Mifflin Company
Coming on Home Soon, illustrated by E.B. Lewis, written by Jacqueline Woodso; and published by G.P. Putnam's Sons
Knuffle Bunny: A Cautionary Tale by Mo Willems; published by Hyperion Books for Children.
NEWBERY WINNER:
Kira-Kira Cynthia Kadohata
ALA says "...the tenderly nuanced novel glitters with plain and poignant words that describe the strong love within a Japanese American family from the point of view of younger sister Katie."
Newbery honors were:
Al Capone Does My Shirts by Gennifer Choldenko; published by G.P. Putnam's Sons
The Voice That Challenged a Nation: Marian Anderson and the Struggle for Equal Rights by Russell Freedman; published by Clarion Books
Lizzie Bright and the Buckminster Boy by Gary D. Schmidt; published by Clarion Books
CORETTA SCOTT KING AWARDS:
Remember: The Journey to School Integration by Toni Morrison
Ellington Was Not a Street, illustrated by Kadir Nelson
The Coretta Scott King/John Steptoe New Talent Awards:
Missy Violet and Me by Barbara Hathaway: for new author
Jazzy Miz Mozetta, Frank Morrison––illustrator: for new illustrator
Coretta Scott Honors for writing:
The Legend of Buddy Bush by Shelia P. Moses; published by Margaret K. McElderry Books
Who Am I Without Him?: Short Stories About Girls and the Boys in Their Lives by Sharon G. Flake; published by Jump at the Sun/Hyperion Books for Children
Fortune's Bones: The Manumission Requiem," by Marilyn Nelson; published by Front Street.
Coretta Scott Honors for Illustration:
God Bless the Child, illustrated by Jerry Pinkney, written by Billie Holiday and Arthur Herzog Jr., and published by Amistad
The People Could Fly: The Picture Book, illustrated by Leo and Diane Dillon, written by Virginia Hamilton and published by Alfred A. Knopf
> Anne Swartz is leaving Simon and Schuster to launch a new imprint at Random House. Her focus will be picture books and will report to Chip Gibson, publisher and president of RH children's. Chip Gibson commented saying "A good children's book publisher has to have a robust picture book program."
> The Rober'ts Snow totals are in! The online children's illustrator auction earned 103,391.33 dollars!–– Auction + Donations Revenue total. Wow! Grace worked her butt off and deserves big praise. My snowflake sold for a little over 350, I think. I wonder to whom? Thanks to whomever bought it!! I'll miss that little reindeer.
> Make Believe Ideas will be a new publishing house launched by Joanna Bicknell this spring. It will be based in England and will publish 40 - 50 children's books a year.
PW had this to say: "Danny Gurr, former president of DK Publishing Inc. and a director of DK Plc., has signed on as part-time director of U.S. operations. Gurr, who lives in Florida and does retail and publishing consulting, said the books will be "educationally sound, clever and priced for value." All books will originate in the U.K."
> Next January the ALA will hand out a new award: TheTheodor Seuss Geisel Award. It will be awarded to one author and one illustrator for creating an outstanding beginning reader.
> Harry Potter hoax: A website claimed to offer an electronic version of Harry Potter and the Half-Blood Prince for $9.95... of course, that was a lie. Rowling's agent was alerted to the hoax by the BBC News. "The Internet is monitored all the time for things like this and usually we manage to get them taken down more quickly than this one," Little commented.
IN THE MONTH OF DECEMBER
> Publishing is on vacation this week––from Christmas to New Years, so things have been quiet. However, this past week Bloomsbury has agreed to purchase Walker Publishing Co. Inc., which publishes adult nonfiction and children's books. Bloomsbury is a British publisher (of Harry Potter fame) which has expanded into the U.S. This came from Yahoo News: "The cash deal, valued at $6.5 million, is designed to consolidate Bloomsbury's position in the U.S. publishing market. Further potential payments in the deal could add another $500,000 to the final price, the companies said. London-based Bloomsbury plans to merge Walker's business operations with its Bloomsbury USA division, although the book imprints of both companies will remain as separate units."
>Chris Van Allsburg speaks about the Polar Express film.
The interviewer asked: "Did I feel the film was respectful and faithful to the book?
Van Allsburg: Yes.
Was it thrilling to behold?
Yes.
Would I change some things?
Yes.
Like what?
He grins. "That's too long a list," he says.
Go here to read the full article.
> The Robert's Snow auction is a huge success! Go here to read a Boston Globe article about the auction. If all goes as planned, Grace and her husband Robert will be with Al Roker on Monday, Dec. 6th at 9:06 in the morning. How exciting! Check it out! (This information is subject to change so please check back....)
>Organizing books by color? If you've ever worked at a bookstore or library or even if you're just a strange shopper, then perhaps you've wondered what it would be like to organize books by color. Oddly enough, this "color theory" is something we booksellers joke about. Kids books are especially colorful, and on occation, one of my fellow coleagues will say "Hey, what if we arange these books by color...like a rainbow!" Ah, gosh, maybe I'm the odd person who said that! Check out these photos.
IN THE MONTH OF NOVEMBER
>Children's book illustrator Trina Schart Hyman passed away. You can find some great information about her here.
> The New York Times picks its favorite top ten illustrated books for 2004. The judges were: Rita Auerbach, a former school librarian and the chair of the Ezra Jack Keats New Writer and New Illustrator Awards selection committee; Gregory Maguire, the author of ''Wicked: The Life and Times of the Wicked Witch of the West'' for adults and ''Leaping Beauty: And Other Animal Fairy Tales'' for children; and William Joyce, the author and illustrator of ''Santa Calls'' and the ''Rolie Polie Olie'' books.
DUCK FOR PRESIDENT Illustrated by Betsy Lewin, written by Doreen Cronin
ARROWVILLE by Geefwee Boedow
A CHILD'S CHRISTMAS IN WALES Illustrated by Chris Raschka, written by Dylan Thomas
POLAR BEAR NIGHT Illustrated by Stephen Savage, written by Lauren Thompson
WALT WHITMAN: WORDS FOR AMERICA Illustrated by Brian Selznick, written by Barbara Kerley
KITTEN'S FIRST FULL MOON by Keven Henkes
TEETH, TAILS, AND TENTACLES: AN ANIMAL COUNTING BOOK by Christopher Wormell
PEOPLE COULD FLY Illustrated by Leo and Dianne Dillon, written by Virginia Hamilton
THE BOY, THE BEAR, THE BARON, THE BARD, by Gregory Rogers
THE MIGHTY ASPARAGUS by Vladimir Radunsky
> The NYT list has prompted me to come up with my own top ten illustrated books of the year. My criteria is: good book design, superior illustration design––including composition and color... and overall, something that I find outstandingly attractive... something I want to revisit again and again. Both the NYT and myself agree that one book deserves the "best illustrated" award––Walt Whitman, illustrated by Brian Selznick––but other than that, I've found nine other books that *I* think are equally or more deserving of the title "best illustrated book of the year." Of course, after attending four years at a prestigious art school, I *know* that art is a matter of opinion! But, if you've read my "in publishing news" thus far, I"m sure you'll only expect more of my particular opinions. I will write short blubs about my chosen ten and include cover illustrations shortly... stay tuned!
> Tom Hanks and director Robert Zemeckis was on Charlie Rose last night to of course, talk about The Polar Express (movie version). I definitely enjoyed the interview but am still not convinced that 3D animation was the way to go. Everyone is talking about how this new technique and technology––it's called "performance capture," and it allows the actor to act out the roles, rather than simply provide the voices–– will revolutionize the film industry. Personally, I'm still a big fan of real people in real settings, but that's just me. Tom hanks played just about every character in the film––including Santa and the little boy! So I guess if you are a big Tom Hanks fan, then you'll be enamored of this film. In fact, all the children were played by adult actors (with sensors attached to their bodies). I think that's a strange thing to do. Children have different mannerisms and ways of moving compared to adults. But again, that's just my opinion.
Clearly, the movie is destined to be a hit, whether people want it to be or not. If you step foot into a bookchain, you are sure to see Polar Express merchandise everywhere... there is even a Polar Express wooden train set. I think the clear lesson to be learned here is: if you want something to sell, just merchandise it do death and it *will* sell.
I will continue to yearn for a Polar Express movie that is filmed on location, high-up in a wintery mountain landscape, using a real rusty train and brave actors willing to endure the cold frost bite. I wish for a real industrial snowy landscape to be sought out, and used as Santa's wonderland. I wish to see thousands upon thousands of *real* people dressed as Santa's helpers milling about... I want to feel the cold, the dark snowflakes on my tongue, and to taste the creamy hot chocolate served inside The Polar Express. If I were Van Alsburg, I would have sold the rights to PBS or the BBC and let them do a version of the book. Every film I've ever watched broadcast on PBS––Anne of Green Gables, A Little Princess, Huck Finn, and more––is just plain brilliant. Of course, my wish may now never come true. Perhaps my judgmental opinions will be swayed after viewing the film staring Hanks, but I doubt it.
Regardless, The Polar Express––written and illustrated by Chris Van Allsburg––will continue to be one of my favorites. It's a classic and deserves the millions it is making.
> An interesting article about celebrities flooding the kid's book market can be read online. The article even quotes Madonna's wonderful opinion of the kid's book market, her opinion of course not including the introduction of her own wonderful additions: "But I couldn't believe how vapid and vacant and empty all the stories were. There's, like, no lessons. ... There's, like, no books about anything." Ah, so intelligently put, Madonna! Several children's book authors fired back, such as Linda Sue Park (Newbery winner), who remarked that Madonna's comments display a, "shameful ignorance of the world of children's books." Go Linda Sue! Jane Yolen also had a few choice words for celebrity wanna-be authors. To read the full article go here: Critics, authors chafe as more celebrities join ranks of children's authors. The article ends with a plea to publishers, from Park: "Please, if you are going to publish celebrity books, try to see beyond the sales figures to the individual child reading that book, who depends on you to give them good books." Well said.
> Snow is falling! Robert's Snow, the online snowflake auction for cancer's cure has begun and will continue through part of December. Go to www.robertssnow.com
>THE CITY OF EMBER may become a movie, says one source. Jeanne DuPrau was (is?) a member of a writer's list that I"m on, so I'm especially excited. Go Jeanne! Her book is original and engaging, so I"m sure it will make for a great movie!
> Three publishers to venture into the kid's book arena.
MacAdam/Cage says it will begin reprinting out of print kid's books. Editor-in-Chief Chandler Crawford says 'Why not start a publishing house so that we can reintroduce some of these wonderful out-of-print books?" In addition to reprinting out of print titles, Crawford says she will also concentrate on foreign titles.
Tanglewood, a new publisher launched by Peggy Tierney will make its debut list this fall. One of its new titles is a picture book entitled It All Began with a Bean by Katie McKy, which is about a "picture book that imagines what would happen if everyone in the world farted at the same time," says Tirney in a PW article.
Smithsonian Kids will be a new imprint of Smithsonian books. Its list will concentrate on science for kids. "There are plenty of dry, textbook-driven science books out there, but there is little science written in narrative form," says Janey Tannenbaum, director of sales and marketing for the publisher. The new list will publish about 20 - 30 books a year for children.
IN THE MONTH OF OCTOBER
> The children's book 2004 National Book Award finalists are as follows:
Honey, Baby, Sweetheart by Deb Caletti (Simon & Schuster Books for Young Readers)
Godless by Pete Hautman (Simon & Schuster Books for Young Readers)
Harlem Stomp!: A Cultural History of the Harlem Renaissance by Laban Carrick Hill (Megan Tingley Books/Little, Brown & Company)
The Legend of Buddy Bush by Shelia P. Moses (Margaret K. McElderry Books/Simon & Schuster Children's Publishing Division)
Luna: A Novel by Julie Anne Peters (Megan Tingley Books/Little, Brown & Company)  
>Books of Wonder relocates
If you live in NYC then I'm sure you've heard of Books of Wonder––the small children's book store tucked quietly off of the busy 5th avenue, on 18th street. Well... they're moving!... one door over, to be exact. The improved store will accommodate the large crowds and will soon offer food and refreshments.
>Google moves into publishing territory
Google, the online search engine, has finally implemented its plan: to put the text of published books into its search engine. When a surfer puts key words found on a book's actual page, the viewer will be able to view the actual book page (scanned in) along with a thumbnail of the jacket. The ISBN, author name, and other publisher information will also appear, along with a link to Amazon, B&N, and a few other online booksellers, as options to purchase the full read. Google says this new initiative will be free exposure for the books and will help book sales. Google has only scanned in titles from books published by Publishers that have given the search engine permission. Google says there are safety measures in place, to prevent copyright infringement. The viewer is allowed to read up to three full pages, but not more. There is a "search within this book" feature that allows the searcher to put in keywords, to further investigate the title.
This is what Google has to say in its own words: "Google Print enables publishers to promote their books on Google. Google scans the full text of participating publishers' titles so that Google users can see books that match the topics that they are searching on. When a user clicks on a book search result, they're taken to a Google-hosted web page displaying a scanned image of the relevant page from the book. Each page also contains multiple 'Buy this Book' links, allowing users to purchase the book from online retailers."
Google of course will be displaying ads on all pages. Publishers will be allowed to effectively "filter" out unwanted ads. Publishers will be paid a percentage for "clicks" on the ads displayed on any publishers' books' pages.
Some participants include: Penguin, Wiley, Hyperion, Pearson, Taylor & Francis, Cambridge, Chicago, Oxford, Princeton, Scholastic, Springer, Houghton Mifflin, Thomson Delmar, Blackwell, and Perseus, although I read that all of "the big 6" are participating.
> trashy teen books anyone?
So, perhaps you're wondering what's been selling lately at a New York City B&N store, in the kid's department. The new Gossip Girl, of course! Maybe you're wondering (or maybe not!) what's even better about the series, other than the all too appealing trashy covers and titles. Here's the answer: The fact that the all too appealing trashy covers and titles appeal to adults, too! Go to this link to read what one loyal adult reader has to say....
I won't say who I know in publishing, but I had a discussion about teen books with a certain friend of a friend, who works at a certain imprint, that looks for trashy teen manuscripts to publish––The trashier, the better! This friend of a friend told me that the editors at the imprint were very excited when they found a manuscript in the slush pile entitled: "Naughty School Girls," or something similar ... perhaps it's best that I can't quite recall! She told me the editors were disappointed when they discovered that the school girls weren't all that naughty.
So...calling all trashy-minded-authors! Open up your Microsoft Word and get typing! I myself have a new novel idea entitled "Do Me." It's too bad that there IS already a teen book called "Doing It." Well, that's not going to stop me! DO ME is destined to head right to the number one slot on the NYT bestseller list! Of course, I'm going to pen the novel using an assumed name. I'm now collecting pen name suggestions, so send them to me!
The Gossip Girl quote of the month announced on the official website is: "Guys usually know immediately that I'm high maintenance."
Watch out for the Gossip Girl movie!
> Robert's Snow articles:
Check out the September 27th issue of Publisher's Weekly for a great article on Robert's Snow. If you don't know what this is about, read below!
Go to KidMagWriters.com for another great article by Jan Fields.
Also, go to Smartwriters.com for an article by Agy Wilson about the auction.
More to come....
IN THE MONTH OF SEPTEMBER
> illustrator snowflake auction for a good cause!
Well folks, the big snowflake auction is fast approaching. What is the snowflake auction? Grace Lin, children's book author/illustrator, came up with the idea after her husband was diagnosed with cancer. Grace enlisted the help of 171 illustrators, who agreed to donate painted wooden snowflakes to be auctioned at the beginning of November and early December. The proceeds of the auction will go to the Dana Farber Cancer Institute. In addition to the auction, the snowflakes will be displayed at galleries starting this month! Go to Robert's Snow to see the snowflakes and dates of upcoming events.
> Harry Potter sneak peak
Rowling gives thirsty readers a few drops from her in-progress 6th book. Go to the official J.K Rowling site. Of course, you're going to have to hunt a bit!
> "Paula Daniger Remembered."
In this week's PW there is a very moving collection of Danziger remembrances. I'll admit that I knew nothing about the author, except that her books are popular and I've had to repeatedly pick them up off the floor after a group of youngsters were done with their daily reading at the bookstore I work at. But upon reading PW, I can see that Danziger was quite a character––someone to be remembered.
I don't know how often I've read and heard that a manuscript must be double spaced on white paper. No pink stationary! No pink bunnies! No scents! No cookie accompanied bribes! Yet, Danziger seemed to ignore the writen-in-stone rules. "We'd meet at Popovers for breakfast to talk, " said Margaret Frith, Editor-at-Large at Putnam."and for me to beg her once more not to use neon green or pink paper for the manuscript." That most certainly got a giggle out of me! Obviously, Danziger was marching to her own drum! The world needs more people like that. Any author who hates outlines, deadlines, wears sequined fishnet hairpieces to luncheons, and thinks that an ellipsis can have 20 dots, will will surely be missed.
> B&N forges bravely on with its publishing endeavor
Also in a recent PW, I read an article about the Cliff Notes vs. Spark Notes war. For those of you who don't know, Spark Notes is published by B&N and as a result, the book chain no longer sells Cliff Notes. I'll let you draw your own conclusion! But if you go to a B&N store, you will surely see more and more B&N titles creeping onto the shelves. And not just bargain books... there are sports books, cookbooks, and even children's books! Does that make me––a children's book author–– nervous? Maybe. My worst fear is that all the endcaps and shelftalkers will be invaded by B&N published titles, leaving little or no room for the rest. In my worst nightmare, B&N has decided not to carry the big name publishers' books anymore, and instead, has published its own knockoffs. However, I somehow feel that me fear is unfounded and that if anything can result from this, it is that the number one bookseller will have a better understanding of the publishing process. Perhaps the company will be more sympathetic toward the plight of the struggling author, such as myself? Well... a girl can dream, can't she? The thing to remember is this: B&N is about sales. It will never pass up an opportunity to sell a good book. As long as publishing companies continue to offer a handsome sum of money to have their books displayed, I'm sure B&N will be obliged to do so.
> Jamie Lee Curtis tells it like it is
On a recent edition of The View––the morning TV show––Curtis made an appearance with her latest children's book in tow. She made it clear that she wishes to turn off the movie star spotlight, and in its place, will be plugging in the pencil sharpener. She said she doesn't wish to look "old" on camera. Instead, she will turn her full attention toward children's books. Usually, I cringe when a celebrity says that––dear I mention Madonna? However, Curtis has come into her own. She isn't just cashing in like the countless other stars. She seems genuine. I applaud her efforts and think that she, unlike the other "celebs," gives kid's books a good name. I'm sure Madonna will continue to insult children's book authors by indicating that she alone is giving the world a gift––the gift of her God given writing talent––and that the rest of the children's book authors are creating books worthless and devoid of moral character....Meanwhile, Curtis will continue to work on her craft. Hopefully, the book buying public can separate the bad from the good, the book-author wanna-be from the real-deal. Of course, one can only wonder if Curtis' books would have taken flight without the built in media outlet. She's certainly making the rounds.
>bookselling politics...
In a recent edition of Publisher's Lunch, I took notice of the paragraph heading "BN Takes Heat for UNFIT Stock Problems." Publisher's Lunch is referring to Unfit for Command: Swift Boat Veterans speak Out Against John Kerry, by John E O' Neil and Jerome R. Corsi, which was wrongly entered into the B&N system as "Fit for Command." Ooops! In fact, you can go here to see a message board that exemplifies that fury. I got some inside information on this, and believe me, it was an accident! The employees who do the data entry for BN.com and for the store system punch numbers and codes into the computer all day long. Even my picture book accidentally read "for ages 17 and up" for a brief while. Mistakes happen.
B&N has also gotten a lot of flack lately for SUPPOSEDLY siding with Bush critics, and has been accused of carrying literature en mass, critical of the Bush administration. B&N has also been criticized for not stocking enough Kerry-critical titles. I gained more insider information when Steve Riggio shared with his loyal bookselling staff a few of the hostile letters that he's been receiving. People sure are getting all fired up!
I work at B&N but I'm also an author, which means I'm not always going to side with the bookselling giant. However, I will this time! I pretty much know how it operates. Barnes and Noble is not about partisan politics. It's about SELLING BOOKS. B&N does carry more of certain topics depending on the region and what people are interested in there. Of course B&N will host more liberal speakers in NYC and carry more of the Bush bashing books. Why? Because NYC is very liberal, that's why! In Texas I can almost guarantee that B&N carries more Kerry critical material. Enough said.
> Election time picture books...
And in the spirit of politics, three picture books have come out just in time for the election season: Max For President––by Jarrett J. Krosoczka, Duck for President––by Doreen Cronin/ illustrated by Betsy Lewin, and What Presidents Are Made of–– by Honoch Piven.
Krosoczka takes a very bare-bones approach to educating children about elections, but that's exactly what kids of the picture book reading age need––a simple way to introduce the process. His artwork is bright and engaging and the short text will guarantee that the child's attention doesn't stray. Cronin takes a more cynical, humorous approach that studies the election process in some detail. Adults will especially love the "sticky ballot" references to last election's fiasco in the state of Florida. And Piven uses his trademark editorial style to portray many of our past and present elected officials. Using household objects––such as light bulbs, keys, and screws––he captures the essence and character of our presidents. The text notes––some some serious, some not––characteristics of the chosen men, or "what presidents are made of."
And if you don't own the 2000 Caldecott Medal winner––So You Want to Be President––buy it today!
IN THE MONTH OF AUGUST:
> some recent deaths in children's:
Bill Martin, Jr. passed away August 11th at the age of 88. He was the author of the popular Chicka Chicka Boom Boom and Brown Bear, Brown Bear, What Do You See? (illustrated by Eric Carle).
Paula Danziger passed away July 8th at the age of 59. She was the author of the popular Amber Brown children's series.
> some children's books to hit the big screen:
The Polar Express: Tom Hanks will be "starring" in this 3D animation, coming to a town near you November 10th. You can check out the movie trailers here:
I'm tempted to NOT throw in my opinion here, but I can't resist!
Note: this opinion is based only on the two minute movie trailers available, and therefore, is subject to change.
From what I've seen, this movie will be The Polar Express, minus the magic. In fact, it's downright creepy. What ever happened to using live actors and real settings? How about traditional stop-animation (as seen in The Snowman––an adaptation of the picture book by Raymond Briggs––which is amazing!)? It seems here that this movie is riding the latest 3-D-animation-crazed-wave, at the expense of capturing the magic of the wonderful, classic book. Although the film obviously tried to recreate Van Allsburg's soft, moody pastels, it did almost the near opposite, creating garish scenes containing goolish rubberized versions of people, who look like they've all been given a heavy shot of Novocain to the face. And what's with the hoaky "Broadway" dance routine inside the train?
Of course, movie tie-ins will be hitting stores like the plague. Look for everything from journals to board books come this October.
A Series of Unfortunate Events
This film will star Jim Carrey, Meryl Streep, and Jude Law and is scheduled to premiere December 17th.
> More celebs to put pen to paper, all in the name of children's books. This time, the political "pundits" have taken a stab:
Lynne Chaney adds to her patriotic collection, with her third––When Washington Crossed the Delaware.
Ed Koch, former NYC mayor, reminisces about early childhood with Eddie: Harold's Little Brother. Hopefully, Koch doesn't do what Leno did, and reminisce at the expense of any real humor or story.
James Carville's Lu and the Swamp Ghost has already hit bookstores. I haven't yet read it, and perhaps I never will. I was turned off by the second name on the dust jacket––"with Patricia Mckissack." Apparently, Carville couldn't properly pen the 40 page book. He did, however, manage to read it!
Last but not least, Bill O'Reilly's The O'Reilly Factor for Kids: A Survival Guide for America's Families. O'Reilly is obviously doing a great service for children everywhere, by steering them around the sharp, bumpy rocks in the raging, emotional river known as the teen years.
> How about this for a marketing ploy?
Doug Cradell, an adult author, tattooed his ISBN to his arm.
I'm going to one-up Mr. Cradell and start handing out temporary tattoos (like candy!) containing my book's title, to children, kindly suggesting that they stick it some place prominent, like their foreheads.
> Has the golden age of children's books long passed?
In a recent edition of Publishers Weekly, Marc Brown talked about his launch into the children's book arena. He spoke of the day his first Arthur book was published, in 1976. He said "The day it was published, a limousine arrived at my door and the driver delivered a bottle of champagne and a note from my editor, Emilie McLeod, saying congratulations on the first of many wonderful books."
I'm sure many authors are thinking "Huh? Where's my bottle of champagne?" I know I'm going to be on the lookout for that black limo on my next book's publication date!
>As always, publishing people jump around like Mexican beans on hot tar.
For a full and comprehensive list of moves and departures, I highly recommend checking out Harold Underdown's site, The Purple Crayon. Harold has taken the guess work out of submissions! Go to Who's Moving Where?