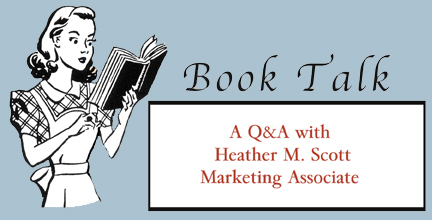 Why did you decide to take a job in publishing?
I come from a generational family of obsessed readers (my grandfather was a librarian) and books have always been a passion. I taught nursery school for ten years, but I always knew at some point that I'd work closely with books. Publishing seemed like the right way to pursue that.
Bloomsbury has a fairly small staff compared to other publishers. Do you think there are any advantages to that? What is the work atmosphere like there?
There are unquestionable advantages to working at a small house. Our total US children's staff is 11 people, so we know each other and all of our projects pretty well. There's a real cooperative feel to everything that we do––if someone detests a jacket, it's taken into consideration. I might be asked by editorial to read a manuscript they're considering––just so they can get another opinion. That wouldn't necessarily happen in a larger house.
Describe your average workday.
My days tend to be all over the place––multi-tasking at its finest! I would say the major part of my job focuses on three things: awards, sales, and conferences. I spend considerable time researching awards, figuring out which of our books should be submitted, and following up once the books are shipped. I also work quite closely with our sales force trying to make sure that they have the materials they need to sell our titles. As a company, we attend several conferences each year and I assist with the logistics of that (everything from hotel reservations, to ordering books, to organizing author appearances)
How often do you travel for Bloomsbury and what does that entail?
I am currently scheduled to attend a half-dozen conferences over the next year––two for the American Library Association (ALA), the International Reading Association (IRA), the National Council for Teachers of English(NCTE), Book Expo America (BEA), and the Texas Library Association (TLA). The conferences themselves are a matter of standing in a convention center at our booth and booktalking our list to the attendees; sharing what we've done so far, and what we have coming up. We also host dinners with librarians, teachers, booksellers, and the media in order give a more detailed presentation of our books, and in turn we learn what people in these diverse markets are looking for.
Name a few of your favorite children's books.
Like so many other people, Where the Wild Things Are is a lifetime favorite. I wore out several copies of The Monster at the End of This Book. Some favorites are out of print (but still beloved): The Speckled Hen, The Lost Pony, The Spooky Hand Mystery, and The Three Robbers. When I branched into novels, I devoured Beverly Cleary, Roald Dahl, C. S. Lewis, and Laura Ingalls Wilder. As I got older, I read quite a bit of science fiction and fantasy (I'm still awed by Susan Cooper) and loved Jack London and similar "man vs. nature" adventure stories.
In recent years, I've become obsessed with The Series of Unfortunate Events. I'm huge fan of The Story of Frog Belly Rat Bone (I keep one copy at home and one at my office) I've been really taken with the works of Margaret Peterson Haddix, Janet Tashjian, Brett Hartinger, and K. L. Going and always look forward to their new projects
What are your favorite Bloomsbury books?
For picture books, I'm thrilled that I get to talk about Ross Collins' artwork, Bill in a China Shop is lush and wonderful, and Princesses Are Not Quitters was a favorite to handsell before I ever interviewed with Bloomsbury.
For novels, reading Christopher Mouse brought back the feeling of reading a children's classic. Pirates! is a terrific adventure––my stock quote is, "I gasped out loud twice while reading it." We're truly lucky to work with Shannon Hale. All three of her novels are marvelous, rich, lush adventures––terribly easy to be enthusiastic about!
How many books do you work on/market in a season?
We average about 20 new titles and 10 paperback reprints per season. Of that list, we're about 50/50 with US originated and UK originated titles.
What are some of the more creative things the marketing team has come up with for Bloomsbury's books?
Obviously, we can't follow through on every brilliant idea we have, but we have been able to pursue a few really fun––and effective–– ideas. The obvious thing for Rude Ramsay and the Roaring Radishes, was to have "roaring radish" seed packets to give away. We also produced chocolate coin "pirates booty" for Pirates! Both ideas went over brilliantly.
What are the most effective marketing tools? Do you think stickers, bookmarks, and postcards help?
Honestly, I think it depends on how well the item is produced, and like any advertising tool, how many people will have exposure to it. Things like post cards and buttons are fabulous. Not only does the individual who picks them up get a visual reminder, but everyone else who sees it gets a nudge, too. A postcard sent through the mail hits dozens of eyes as it goes from point a to point b. And it becomes a familiar image to every person who happens to see it. Same thing with a button––if I put one on my jacket, hundreds of people see it every day as I travel around town.
What factors go into deciding which books will get marketing/promotional items? And who makes the decision? Is there any collaboration between the editorial and marketing divisions?
The marketing team brainstorms ideas for all of our books, and then we decide just how much we can realistically do for each title. Decisions are then made with the input of our staff and our sales force about what books should get the most energy, time, and money put behind them. The final decision is left to our sales and marketing directors. Throughout the process, the marketing team does work with the editorial team so that there aren't huge surprises at the last minute––and so that we can use their knowledge of an author or book to the best advantage.
About how many books usually get sent out for review, on average?
Every book is sent out to a broad list of reviewers and review sources nationwide. We have a standard mailing list based on the age range of the books (YA titles get sent to a slightly different list than a picture book does.) Additional copies of books are sent out based on special interests or hooks that a book might have.
How important are reviews?
Reviews can be important, but they're not absolutely everything. There are really three markets: school/ library, the general public, and bookstores, which each have publications which suit their specific needs. A positive review in the New York Times can cross all markets, whereas a star in Publishers Weekly will really only influence libraries and bookstores. But even a bad review can be inconsequential if the word of mouth is good. One title of ours wasn't well received by reviewers, but the word of mouth among teen readers has been great––several librarians have told us that it never seems to be on the shelf and that there's a waitlist to check it out.
Do you think that booksignings REALLY make a difference?
Yes. And I know some authors don't want to hear that, but I sincerely believe they do. It brings a different level of exposure to the book and creates a closer connection for both readers and booksellers. Personally, I've always loved attending signings and readings and learning more about an author or book. As a bookseller, it was great to be able to handsell a book by saying, "When I saw him read, he said the basis of this story was…" Readers respond to the work more closely if there's a personal connection.
Is there anything an author can do to make YOUR job easier?
We certainly appreciate any personal stories or anecdotes that we can use when talking about a book. We also find personal contacts or details about an author or illustrator's local media outlets and bookstores useful. It's also important for us to know if the author/illustrator has set up any events on their own––that way we can support it on our end and insure that the bookstore or library has everything they need from us to make sure the event is successful.
What do you think the current trends are for young adult, middle grade, and picture books?
Unfortunately in all three, I think the trends are being dictated by what worked really well three years ago new trends are just starting to emerge. In young adult fiction, I think the shelves are still flooded with books of the guilty pleasure chick lit variety––most seem to be variations on the Gossip Girl novels. I'm not personally a fan of these books, so I'm absolutely longing for the next big thing. A terrific mini-trend has been realistic stories of social outcasts; what the kids who aren't at the top of the high school hierarchy are thinking and doing.
As they have been for years now, middle grade readers are still being bombarded with fantasy titles. Harry Potter may still be going strong, but I know that many kids are looking for, and longing for, something else. I've specifically noticed excitement about the emergence of good mysteries and for pure science fiction for this age group.
In picture books, there has been a shift towards simplicity, in both text and art. The Caldecott books for the past few years are evidence of that. I think that a simple text that tells a great story is a fantastic thing for a young child to encounter. On the negative end of the spectrum lies the ongoing trend of celebrity authors. There are very few celebrity books which work well and far too many that are merely a waste of time, energy, and resources. I've been greatly disappointed time and again by the fact that these books keep churning out, and that adults can be swayed by a celebrity attachment to a mediocre project. I've never heard a kid swoon over the fact that Madonna's new book is out.
What kind of books is Bloomsbury currently looking for?
First and foremost, Bloomsbury looks for really good storytelling, no matter the age of the intended audience. We publish for a full range of ages, so there are no limitations on an ages or grades. We are known for having a real strength with fantasy, but I know we've got our eyes open for science fiction, mystery, and historical fiction. Over the years, we have pulled some really terrific titles from the slush pile, so by no means is it a black hole.